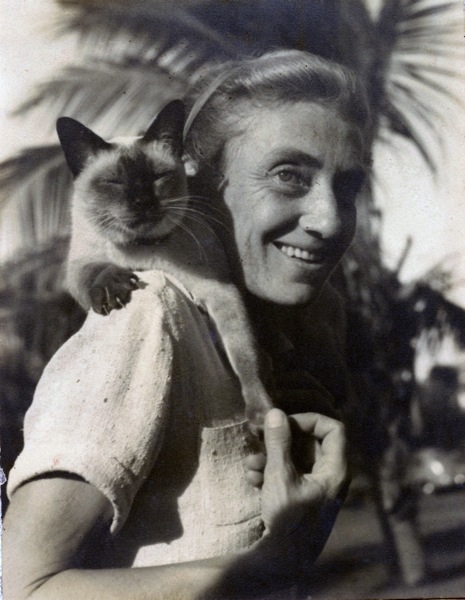 Photograph taken by Klara Farkas, a well-known photographer who lived in Coconut Grove.
Mary worked for Marianna von Allesch for at least the year 1942. She saved a newspaper clipping about Marianna, possibly from The Miami Herald, dated March 22, 1942. The author of the article is unknown.
Uses Glass As Medium To Produce Outstanding Decorative Art Pieces
"If we can't have any more decorative objects made of brass or aluminum – even if we come to the place where we've practically forgotten the texture and heft of hard metal objects – we can still have glass. And glass, according to Marianna Von Allesch, who is a master craftsman in the art of glass blowing, is the perfect medium for our times.
"If you're skeptical about the sort of delicate and exquisitely lovely objects that can be made by blowing a mass of molten glass through a metal tube, you can see a display of some 300 such items at the Washington Art Studio, Washington ave. and 10th st., Miami Beach. It's Miss von Allesch's first show in Miami, though she has been working here, hidden away in a studio on Sheridan ave. for more than a year.
"Miss von Allesch (she's an American citizen now) was born in Bulgaria to a countess mother and a military father. She began by studying painting and other conventional arts, and only got sidetracked into glass-blowing when she met up with a group of Thuringian workers who had descended from several generations of Christmas tree ornament makers. She perfected her own technique and then began teaching the Thuringians to make fragile and exquisite art objects out of the hot molten stuff. When she left Germany she was operator of a workshop with 6,000 workers, under her direction, made hundreds of the tiny figurines such as you may see on the Beach this month.
"You will see such pieces as "Wind in the Wood", a foot-high wind-blown tree with figures; a group of "Assyrian Riders" – the Metropolitan Museum of Art bought part of this group several years ago; dancers, bull-fighters, clowns and circus pieces, fish, nativity groups, and a most exquisite group in crystal called "Classical Garden." There are humorous pieces, too, such as the 12-inch mosquito and the anteater.
"Since coming to this country, Miss von Allesch has trained nearly 50 workers in her technique. All the designs come from her fertile imaginative mind. She branches out into other crafts such as glass jewelry, fresco and glass combinations, plaques, screens, and all sorts of furniture and wall decorations. She has also had a finger in such artistic pies as designing rugs and textiles, supervising store displays, conducting retail shops, decorating important interiors, and executing murals for bars and smart shops.
"Since glass is made mostly of potash, sand and lead, Miss von Allesch does not anticipate any curtailment of her supplies. Tools may became a problem, but so far it's not serious. And glass is going to be "substituted" more and more as the war goes forward. In the last half year Miss von Allesch has developed and designed a whole new line of glass articles for the Kensington Co., which formerly dealt only in aluminum objects."